Jody Creane takes us through his experience with his Viper Flex sticks
As a Deer stalker, having a stable shooting position can mean the difference between an accurate, well placed shot and a bad, in-humane shot. For many years, to me, this meant the use of a Bipod and any fence post, tree or large rock that I could comfortably rest my rifle on. Sometimes it worked, other times I simply couldn't take the shot because the Buck fever was too great and my position too unstable. I cannot tell you how many times I have seen the white tush of a Deer disappear before my eyes!
About two years ago, I was first introduced to the concept of using shooting sticks for Deer stalking. Although this practice has been around for many years it took me a while to catch on, and I only wish it had happened sooner! My friend, Ray, had invited me around to try out his new toy. Ray, an avid Deer stalker, and in my eyes, long range 'wizard', has the benefit of having access to long wide fields close to his home. Here he has steel targets set out at varying distances, anywhere between 50 and 475 metres, with a Steel Fox thrown in for good measure. His new toy? A brand new pair of Quad Sticks.
I have seen Ray shoot apples at 400+ meters, so his ability with a rifle is "experienced" to say the least! We continued to put lead down range on and off the sticks and I was amazed by their steadiness. At one point I took my .308 Blaser and rested it on the sticks, Ray judged the distance to be 250 meters so I aimed just on top of the target and squeezed off a round. The steel fox fell over and I was chuffed to bits. I was hooked and needed a pair of Shooting Sticks, but not just any! Ray's Sticks, although good, were just lacking some finesse. Stable? Yes! But for me? No! I wanted something more.
Being a member of numerous Hunting/Stalking Facebook pages, I came across the name 'Viper Flex' from Denmark who manufacture top quality, quad shooting sticks. I was intrigued and later discovered that the same Sticks are being used by professional hunting guides, one of which pointed me in the direction of a local supplier. So a few days later I took off in pursuit of my new sticks, I tried two very similar, but indeed very different Shooting Sticks. One was of Aluminium construction, finished in a black anodized coating, and the other had a Carbon Fibre main tube and was very light, with Aluminium parts, again finished in black. I took the latter, not just for cosmetic purposes, but because it weighed less and could be easily disassembled for ease of transport. This is what I was looking for! The model in question? Viper Flex Journey, and from initial inspection it screamed quality!
Starting with the feet of the operation; they are made from a hard durable plastic and are solidly fixed in place, unlike cheaper manufacturers, who simply use soft rubber caps. The legs are joined together by a 30 degree spur, which is welded onto one leg and connected to the other by a Hex screw. Again this shows the quality and time they put into their products, as welding Aluminium is notoriously difficult to do. Both pairs of legs are held in place by a plastic clasp, meaning they cannot knock off each other when being carried in the field. All Aluminium parts are coated in a Satin/Matt black, anodized finish, helping to reduce glare. The Carbon components are very smooth to the touch and finished to the same high quality standard.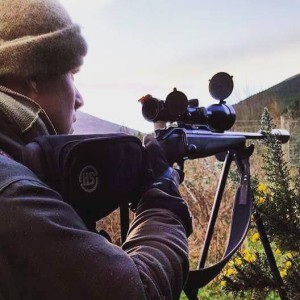 Both the Journey and Basic models can be adjusted by using the spring ball clips, two sets in each leg,
one at the top and one at the bottom. These clips are commonly used in crutches, offering a very strong and reliable hold, and cannot be adjusted unless depressed! Adjustment is made in the same way as you would adjust a crutch. Simply press in the spring ball clip and move along a series of holes until the desired height is reached. This varies from person to person, but I found chin height to be more comfortable for me. On the Journey model there are 12 holes in each leg, 50mm apart. This provides a vast range of adjustment catering for all shapes and sizes.
When you are comfortable with the chosen length, Viper Flex have incorporated a clever means of knowing which holes to adjust to, if you need to disassemble them for ease of transport. On the top half of each pole you will see letters, clearly marked in white, and on the bottom, numbers. Whatever Letter/Number combination you see protruding from the main tube, simply take note of this and that is your height setting… Simple!
The "Basic" model can be adjusted from a height of 1.2m to a max of 2.1m with a complete retractable length of 1.1m. It's total weight is 1.1kg. The "Journey" model has an adjustment range of 1.2-1.9m and weighs just 990g. It retracts to a mere 65cm, allowing you to easily store it in a suitcase if needs be. On both models, when in use, the rifle stock fits into a "U" shaped holder in rear, and the fore end rests on and elongated "U" platform. This platform is 10cm in length and allows a good range of lateral movement of the rifle if your target is moving.
Field testing showed that on uneven ground, getting the rifle stock to sit into the rear holder was a bit tricky and sometimes took away valuable seconds! You can purchase both a wider fore end and rear holder, but as an optional extra.
One annoying aspect of these sticks was when a gust of wind blew across the holes it sounded like a badly played tin whistle and I had to tape them up with electrical tape. Fortunately both models now come with Clip strips as standard, eliminating this problem.
Personally speaking, if I were to change one aspect of these sticks, I would increase the angle at which they can be deployed. This would allow a greater range of movement when hunting in mountainous terrain, as sometimes, you have to put the legs wider apart to get a more stable position.
Looking back, I often wonder how I managed without these sticks. Th
ey are a quality made necessity, allowing for a quick stable shot and weighing less than a kilo! Yes, they are considerably more expensive than other manufacturers, but quality costs! I know for a fact, once you grass your first deer you will never be without!