Description
EasyDrag from Best Deer Call…DRAG and GAMBREL all in one!
…small enough to fit in your pocket, strong enough to drag a deer…

Designed for portability from user friendly parts, the EasyDrag is a pocket-friendly drag handle and gambrel in one, designed for Muntjac, Roe and Chinese Water deer…
Drag your shot quarry, and suspend it for a gralloch, all with one tool, that fits in your pocket! Drag your deer either with the grain of the pelt, ie, EasyDrag installed through the front leg tendons, or backwards, installed through the rear knee tendons.
Once in a position to gralloch your deer, any elevated surface that you can reach is a larder hook, simply drop the EasyDrag over a branch or fence post for example, and you can carry out a hygienic, suspended gralloch.
EasyDrag is manufactured with a semi rigid, reinforced handle which allows you to comfortably drag Muntjac, Roe and even small Fallow, by simply opening up a space in the elbow tendons, and clipping the stainless steel carabiners through. Our carabiners are rated well beyond the weight of the species that the EasyDrag is intended for usage with Muntjac and Roe deer.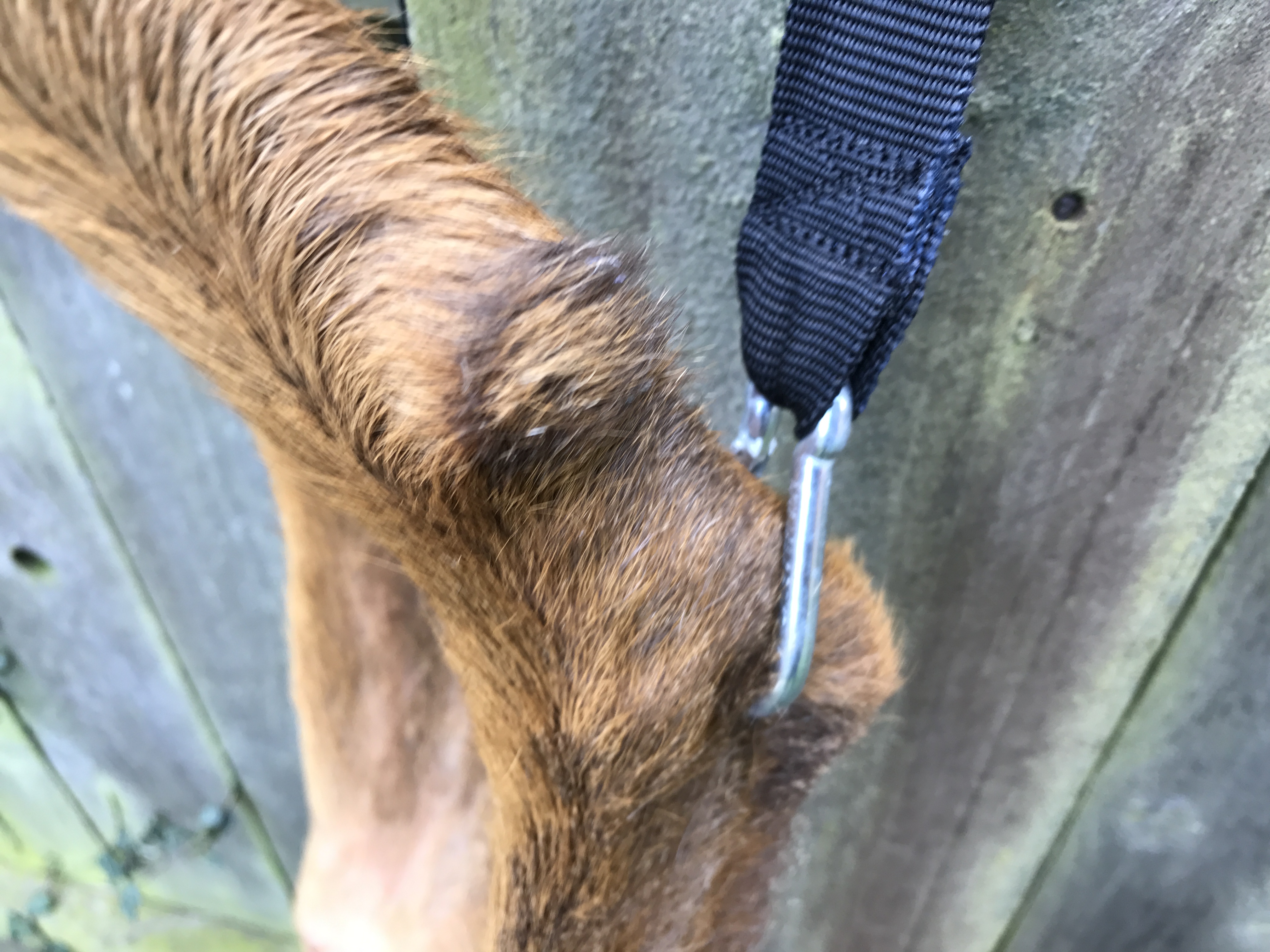 We are 100% confident that you will agree, the EasyDrag will stand up to any task you throw at it! Within reason!!
Assembled and finished in the UK, we are proud to offer you a full guarantee*, if you can prove to us that you've managed to break it dragging a Muntjac, Roe or Chinese Water deer, we will replace it… for free!
Double stitching the material ensures the handle will not let you down when you really need it..
*Lifetime Guarantee subject to proof of purchase, and the burden of proof is upon the claimant… limited to dragging or suspending a Muntjac, Roe or Chinese Water deer… return postage costs lie with the claimant.