Description
You thought Viper-Flex couldn't get any more luxurious…
… introducing the Viper-Flex Journey, they fold down smaller, are lighter and have carbon fibre… who doesn't love carbon fibre!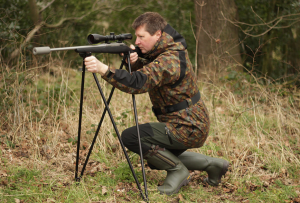 Viper-Flex Journey Quad shooting sticks offer an extremely stable shooting platform, suitable for prone (lying), kneeling and standing stance shooting.
From the most junior deer stalker to the experienced, these sticks will improve your shooting confidence. Having been tested against various types of shooting sticks, singles, bipod, tripod and other quad sticks, the Viper-Flex Journey are the steadiest and most comfortable to shoot from. Improving accuracy for even the most experienced of shots.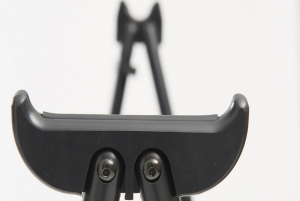 Viper-Flex Journey shooting sticks have the added bonus of featuring a front "cradle" rather than a V shaped rest, thus allowing the stalker the option for lateral tracking without changing the shooting position. This is a great feature that aids in the tracking of moving targets.
Weighing less than 1kg, the Viper-Flex Journey Quad Shooting sticks are suitable for stalkers from 1.20 – 2.10m tall, with a great range of adjustment, so they are ideal for the travelling hunter. When dismantled for travel they are only 65cm long, small enough to stow in a rifle slip, all vehicles, including quads and argos. It's easy and quick to adjust to the desired height, with a robust adjustment system, so they really are ideal stalkers travelling to and from different grounds.
Made from black anodised aluminium and carbon fibre, they stand up to the rigours of stalking, and can be easily transported in a weapons case or slip.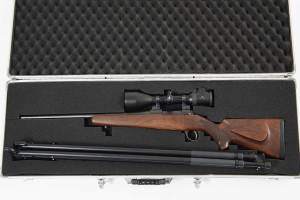 Facts about Viper-Flex® Journey XL
Shortest length when disassembled: 65 cm
Easy and quick adjustment to the desired height
Manufactured from black anodised aluminium combined with carbon fibre
Can be carried in an ordinary suitcase
Clip Grips and bag included
Viper-Flex® Journey XL is suitable for shooters up to 2.00 m tall.
Can be shortened to 127 cm
Weight 1080 g
I've heard Viper-Flex whistle in the wind?
Not any more!
Also included is a set of the Viper-flex Clip grips – customised handles for the shooting sticks to prevent the vortex. Clip grips isolate and cover the free holes and reduce noise. You simply just cut to the required length, once you have the sticks at your ideal height.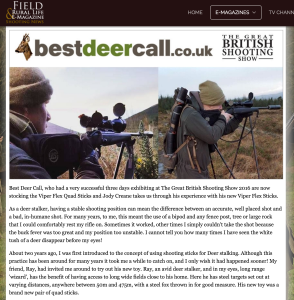 Take a look in Shooting News for a full review of Viper-Flex sticks
Click here to open article in a new tab
You may have also heard these sticks referred to as Hammond Sticks or Quadpod… this is the same product, sold under their correct brand name.