Description
What's the best method for carcass extraction over any terrain?
Deadsled 24 is the answer
Although the primary use of Deadsled 24 is for removing your chosen deer from your ground to a vehicle or larder, the versatility of the Deadsled can be endless. You can even drag equipment to and from your ground, carry small loads of wood, camping equipment, supplies and much more.
A key feature of the Deadsled 24 is that it rolls up to such a compact and lightweight load, in its supplied carry bag, that also has a shoulder strap attached. This means the sled can come with you when stalking or guiding, and is ready to use once the carcass is ready to drag. No more long walks back to the vehicle for a tray or sled, no more long tiring drags with the carcass in hand. Long gone are the days of putting a bloody carcass, with the possibility of ticks on you back and carrying it out. Deadsled 24 solves all of those issues.


The Deadsled 24 is designed for the orange tether to be attached to whatever you are pulling, allowing you to control the load properly and safely. You simply take one end of the orange tether and loop it around the neck or head of your deer. Pass the handle through the bottom hole and pull it tight so that the front of the sled curls up and slightly over the head of the carcass. This enables you to pull the carcass as opposed to the sled, reducing wear on the sled itself.
Your carcass will be secured inside the sled using the straps and robust metal buckles. This protects the carcass from the outer environment, and the smooth outer surface of the sled makes it glide over the terrain with ease. Keeping you carcass clean and protected from contaminants.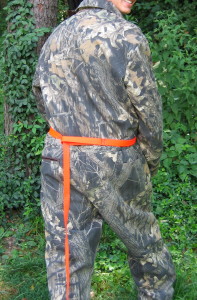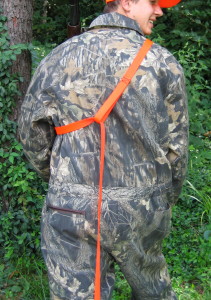 There are three ways in which you can pull the Deadsled 24;
1) The loop end of the tether acts as handle, allowing you to pull by hand. This works well in extremely difficult areas for shorter distances.
2) By passing the long length of the tether through the handle you create
a larger loop for a harness. You can then put this harness around your waist.
3) Using the same technique as above, you can pass this harness around your shoulder too, making it a very versatile sled.
Deadsled 24 from Best Deer Call, you bag it, we drag it.